Protecting Your Child from Criminal Penalties
Has your child been arrested for a crime? It is important that you act quickly to defend their future. A criminal conviction can follow your child around for the rest of their life, making it difficult for them to obtain jobs, housing, and education in the future. Maryland's juvenile court system aims to help children rehabilitate and become productive members of society, instead of automatically sentencing them to years in prison or just "graduating" them into an adult court system after their time in a juvenile system.
How does the juvenile criminal system work?
Unlike the adult system, the juvenile justice system works primarily to help minors move out of the criminal system and into society. Defendants in certain cases, such as those for children 16 years or older, can still be tried as an adult, however a dedicated trial attorney can argue to have the case sent to juvenile court. The process can be tricky, and it is suggested that you should never face the courts or juvenile system without a lawyer.
Arrest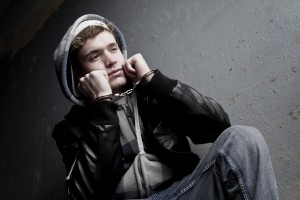 Depending on the crime that was committed, the arresting officer will determine whether the child will be sent home to be with parents or guardians or to a juvenile facility. Shortly after the arrest, there will be an adjudicatory hearing during which the evidence in your child's case will be presented and witnesses will be called forth to help the prosecutor make a stand.
If your child is found guilty of the crime that they were arrested for, they will face a disposition hearing, or sentencing. This will determine what penalties your child will be required to serve or pay. Sometimes, this will mean time in a juvenile correctional facility or treatment and rehabilitation; it all depends on the crime that was committed. When a child is delinquent, they will receive probation, commitment, or restitution – sometimes a combination of all three.
Probation
Like most criminal offenders, juveniles will still need to face probation if they are convicted of a crime. Your child will be assigned a probation officer and will need to abide by all court rulings the same as an adult offender would.
Commitment
In the juvenile court system, commitment is the same as being sentenced to a prison or jail. Your child may be designated to serve in a correctional facility or a rehabilitation program. The Department of Juvenile Services will monitor the progress of your child during their sentence.
Fines
Fines and restitution may be forced to be paid on behalf of the victim or the victim's family. Damaged or stolen property will need to be replaced, community service may need to be fulfilled, and restitution such as funeral expenses may need to be paid.
You need an aggressive litigator!
In working to protect your child's future, it is important that you work with an experienced and aggressive trial litigator who has the capacity and means to represent your child in their time of need. Our team of dedicated Cecil County criminal defense attorneys has more than 22 years of combined legal experience in providing outstanding representation to both adult and juvenile offenders. Contact our team today to speak with a lawyer and schedule a free case evaluation as soon as possible.